2013
December 9, 2013
One of the toughest times to be a parent is when your child is sick. The infants and babies are the scariest for a few reasons: 1) it's new for the baby, who has no idea what to expect, 2) it's new for the parents, who have no idea what to expect, and 3) there is very little informative communication going back and forth.
It's remarkably easier when you can communicate and when the child knows what to expect.
Dash was throwing up every 30 minutes or so Sunday morning from about 12:30am forward. He was pretty stoic about the whole thing, a seasoned pro, if you will. A couple of hours into it, during the now-familiar "dry heave" stage, he says "It's not really throwing up anymore, it's 'painful spitting'."). Sunday rolls around, he's low energy, but on the mend. Good spirits. Been there, done that.
And the best time for parents: when the kid is getting better and actually starts laughing and joking again. Such relief, such appreciation, such acknowledgement that 'healthy' is such a wonderful thing.
November 3, 2013
I can't tell you how proud I am of Dash. He had his first out of town basketball tourney. I've been proud of how hard he's been working (Coach practices them hard and long) without a lot of glory (they play 10-and-under and 9-and-under teams even though they're much younger (Joey on the far left just turned seven, Dash just turned 8, LT (two right of Dash) is six!). The two taller gentlemen on the right are 10-years old; they can't play on the nine-and-under league.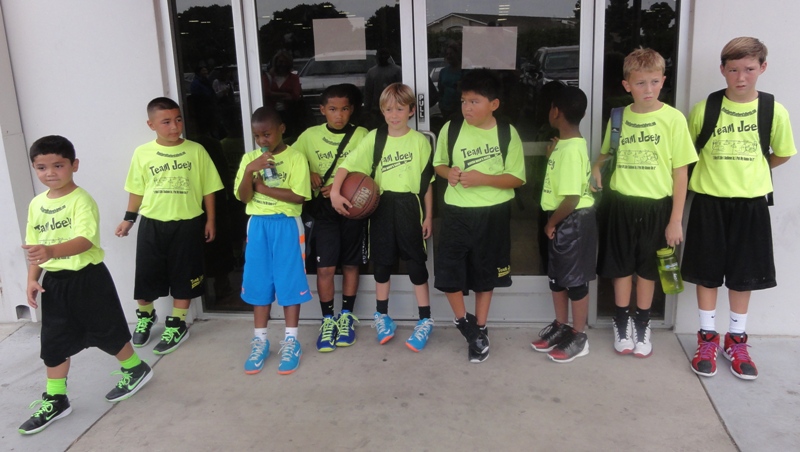 In the past, including the first couple games of this tournament, he expressed his frustration with the contradiction between the ideal that Basketball is a Non-Contact Sport and the very clear reality that beats the heck out of that ideal every game. He's not frail, but he's far from sturdy (and he's a lot like me (kind of delicate emotionally)).
So the teams at this tourney were not only the typical bigger, but, damn, they were way fast and way aggressive.
At one point about three games in, after getting beat up (as usual), you could tell he was at the point of being completely overwhelmed. The game was getting away.
I didn't see An Epiphany Moment, I didn't see the eyebrows furrow with determination, but damn he just upped his game, absolutely chasing everything down, diving after loose balls, ignoring the fact that he was getting more battered, ignoring the taunt of the scoreboard. It was like he had just realized that being intimidated held no value whatsoever. He got tough. He got aggressive. He got fearless.
The rest is just technique and details. The big battle is won.
Determination, toughness and hustle. I'm very impressed and very proud.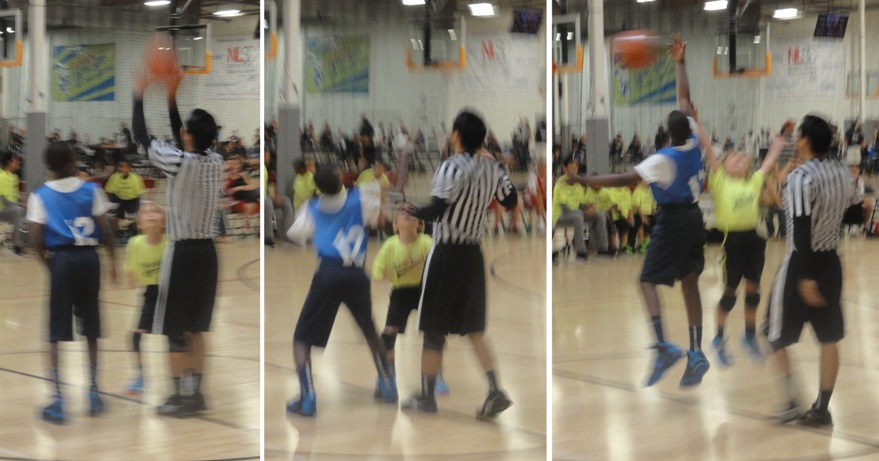 I have to give credit to Coach Joey and his son, Joey: they're intense and really tough (my money is on young Joey to get any free ball).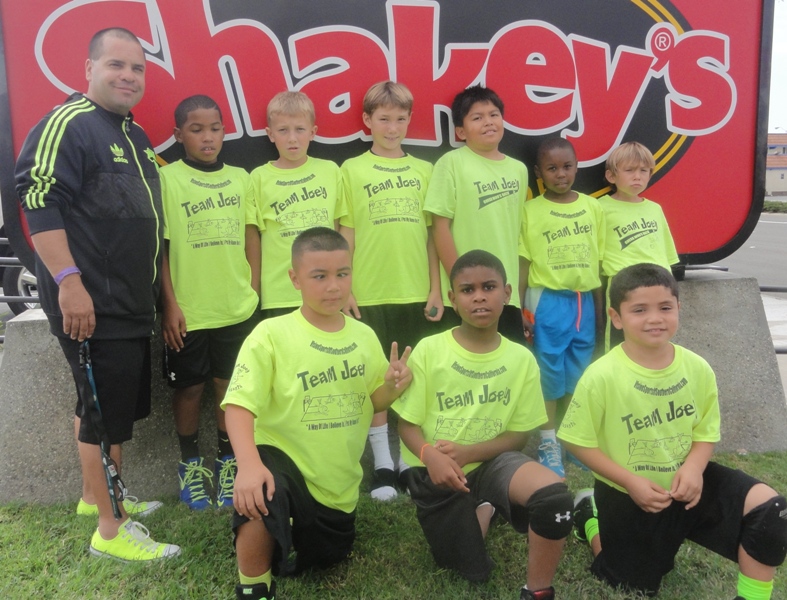 I also have to express my appreciation. We get to piggyback on (or remora off) the intensity of a Coach father and prodigy son relationship. This isn't some abstract coaching job, he has a lot more skin in the game than that.
September 24, 2013
| | |
| --- | --- |
| | Okay, chalk up another activity that Dash doesn't really slow us down a whole lot at: downhill single-track mountain biking. I mean, sure, we might be able to get down Mammoth's "Downtown" trail in 32 minutes instead of 40, but that's a quantitative difference, not a qualitative difference. And, sure, he's yapping the whole time, but that isn't slowing us down... |
We had an awesome time during our first non-skiing trip to Mammoth. Never would have done it without the encouragement of our awesome neighbors, Carolyn and Giovanni.
Prior to two days of biking we hiked to Devil's Postpile and Rainbow Falls, and took a trip to the Mono Lake Sufas, as well as Bodie Ghost Town.

September 7, 2013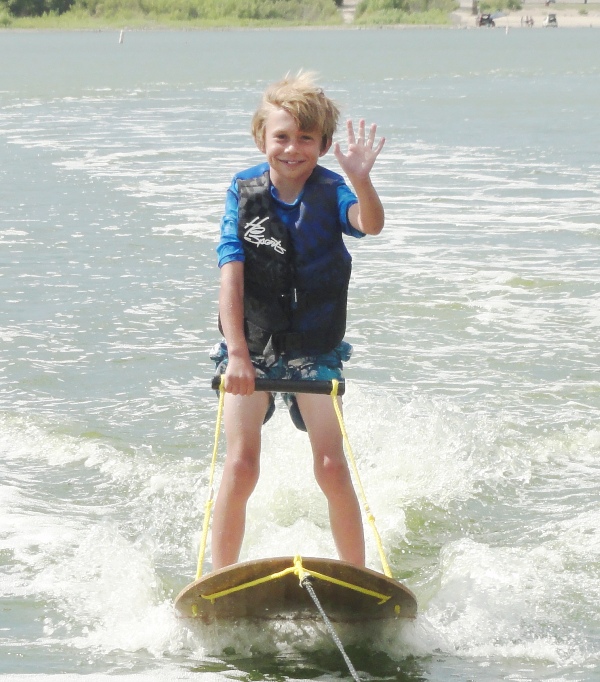 Since we don't go in the water that much (near the water, yes; on the water, yes; in the water, not so much), Dash never stood much of a chance to be an early skier. When the water is cold, it's hard to be patient in it. Dash has been to the side of the boat on the boom with training skis a couple times last year.
This day, in Lake Elsinore, it was low traffic, so it was an opportunity to go behind on a rope. Beach start with a holder would have ensured success on the first attempt (and success for Jake, who was also with us), but not being familiar with the lake, Dash got up with a deepwater start on the third attempt or so. Airhead U-Ski = really easy, low-speed, safe.
Sep 3, 2013
Dash had a Saturday with a lot of time on the iPad.

Late in the day, in I asked what he was doing. He was trying to learn the dance from Michael Jackson's Thriller and was taking notes...

interesting...

clicking on the list shows both pages.
Aug 29, 2013
Lazy summer days (free time before Laser Tag Camp). Dash is sorting his Pokémon cards. In his bathrobe. Wearing his Yodas (I'd buy a pair for myself if I could find my size).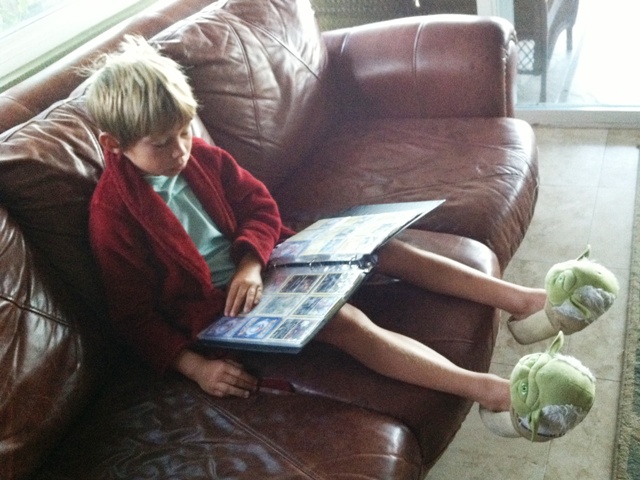 Aug 26, 2013
A trip to Florida. Slightly odd one. Kids were back in school. A lot of rain, me too lazy to hook up with friends (Rebecca and family did host us one night, Justin was leaving for college a few days later, so it was a special time). The highlight was spending time with family; dang, we took few pictures...
Danny, Corrine, Zachary and Zoe hosted us the first Saturday. Zachary is all grown up and Zoe is precocious (Zoe and Dash get along famously).
We got to see Anna, Patrick and Sean twice. Dash and Sean are like brothers. We all spent a lot of time in the water at Cocoa.
Mom was under the weather a lot, so we didn't get to do our Norwood's dinner in Smyrna.
We did hit Aquatica and Busch Gardens until it rained (free with our Sea World San Diego passes, yay!). We hit KSC in the rain. I hadn't been there in 20 years or so. It's expensive. $140 for the three of us (by comparison, Dash and I (and Lonnie) saw the Space Shuttle Endeavour in LA for its permanent price of Free. KSC is impressive, though.
Dash in a foul mood for some reason... (below)

Dash with Cousin Sean, his best bud...
July 23, 2013
Dash is adding a new sophistication to his humor (and starting to get a little deviant in his begging). "You know the nutrition I need the most: Vitamin I". You know, the iPad.
We played a some badminton yesterday, Dash's first. He was all worried that he was "terrible" and wanted to give up right away. He had trouble adjusting to the length of the racquet initially (he's calibrated for a racquetball racket). He got the hang of it soon enough and did a lot of delighted squealing.
He wanted to practice baseball, which we hadn't done in over a year or so. First 20 pitches or so, he wasn't even close. Given his reticence with the badminton, I was looking for a soft exit for him. Eventually, though, his body figured it out and then he was popping everything. I'm glad he had the patience and confidence to stick with it.
I'm also proud of him for his hard work and good attitude with basketball. He's in a serious, tough league and has a great coach who we seem to have a long-term commitment with. Coach has a long list of upsides, but... he's a yeller. One Monday game, Dash had an off game, nothing working well, plus he got hurt a lot (he's skinny and on the smaller side (sometimes outweighed by 30+ pounds (he's 54 lb.)). Coach says his injuries "only hurt when he's on defense". So after the game, Dash and the other two permanent team members got a chewing out that reminded me of a bad one in boot camp. So a bad night.
Thursday's game, with really no prompting, he went in with a good attitude (I feared the worst), and had a good all around game and a very upbeat night. I told him afterward that what impressed me the most was that after a bad night he went in with a positive attitude, which is a key to happiness because sometimes that's the only thing you can control. He has to really work at it, gets worked hard and yelled at, isn't scoring much, but he keeps putting the effort in with a good attitude. I'm proud of that.
On the other hand, though he's never seen me play volleyball, he's exactly like me when he's on the court: laughing, joking, mouth running the whole time. It is only a game, after all.
June 30, 2013
June 18, 2013
Programming = Love?
My favorite moment from 2012 was when, at the Grand Canyon Airport, Dash realized that we're there to "just get information" about a helicopter ride. His beaming joy and jumping waist-hug will stay with me forever (hopefully (and probably longer than the flight itself).
This year's favorite moment? Programming?
Because he's addicted to video games, I had mentioned that there are programming languages for developing video games, some designed for young people. He brought it up a couple of times since I mentioned that, which prompted me to do some Googling. "Scratch" from M.I.T. (I wonder if I still have their rejection letter) is a programming environment design for 8-year olds and up.
I dragged him off Bookworm ("I think you'll like this"). Dash programmed a little animation and is totally psyched. So am I. It's now that much sooner before I can exploit his little mind for money (which takes a lot of pressure off his kidneys...).
He spent most of last evening tweaking some animations and just raving about how fun it was. Jumping up and down. Giving me all sorts of hugs, thanks, and praise, and even, gulp, crossing that "red line" (which he'd been careful not to cross), actually saying "I love you". wow.
This morning: "Dad, guess what I dreamed about last night!"
June 17, 2013
I've been too distracted to write, but Dash hasn't.
This is Dash's 2nd Grade Report on Animals. I remember when I was in second grade, my report on animals was me standing in front of the class reading dog breed names. And being told "that's not how you write a report."

Dash has done the full enchilada here (click on the cover to the right for a PDF of his report). I don't remember what grade I was in when I report such a well-structured report.

I'm very impressed.
March 30: Mammoth Ski Trip
Skied a lot last year. This year didn't go until this weekend to Mammoth.
He was a little overconfident last year at the end of the season. My goal for him was that he learn to be able to s
That's a gap of about a year. We skied Friday and Saturday. That's only 2% of my life for me, but over 12% for Dash. He surprisingly was cautious and took his time before letting her rip.
Practicing...
---