January 1, 2012
A tough week at skateboard camp and a little NYE Party rugburn.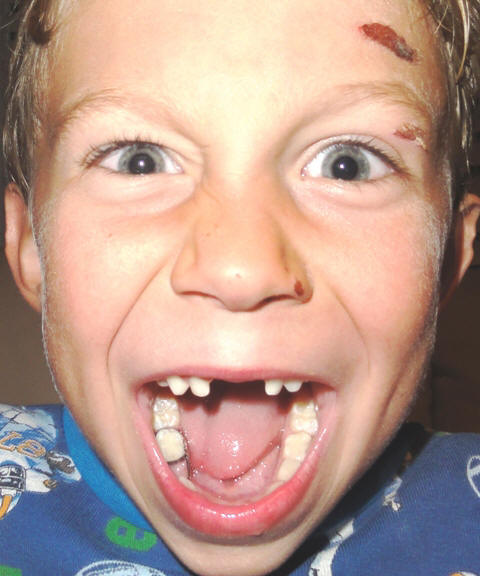 | | |
| --- | --- |
| after a walk on cliff-bordered beaches, we're eating fish overlooking the beach and see whale's spouting!!! | |
January 30, 2012
Post HedgeHog Day Blues...
"Dash, do you know what tomorrow is?"
"Hedgehog Day?"
"No. THAT's ridiculous."
For the Before I Forget Files
Funny what sticks in their minds. Actually it shows good prioritizing:
While combing through pictures for his 1st-Grade Autobiography Project, we got to last year's Disneyland trip:
Jeff: "Ahh, that was one of my best days ever."

Dash: "Third best."

Jeff: "Huh?"

Dash: "Your third best day."

Jeff: "Huh?"

Dash: "Your best day ever was..."

Jeff: "The day you were born."

Dash: "And your second best day ever was the day you married mommie."
February 14, 2012 - Valentine's Day
Too busy for anything romantic for Valentine's Day. Ahh, parenting....
Idyllic time at the beach last Sunday. Too cold of course to swim or even wade (as usual), but warm with little wind. Got the trifecta in: football, Frisbee, and sand castles. Receding tide gave us time to build dams/shields and lakes, with enough rogue monster waves to overrun them often, but not too often. Frisbee is fun, because with his back to the wind, Dash's throwing range is about as far downwind as mine is to him into the wind. About as "peerish" a sport as we can get to at this point. Also, at that range, it's really hard to hear his complaining. J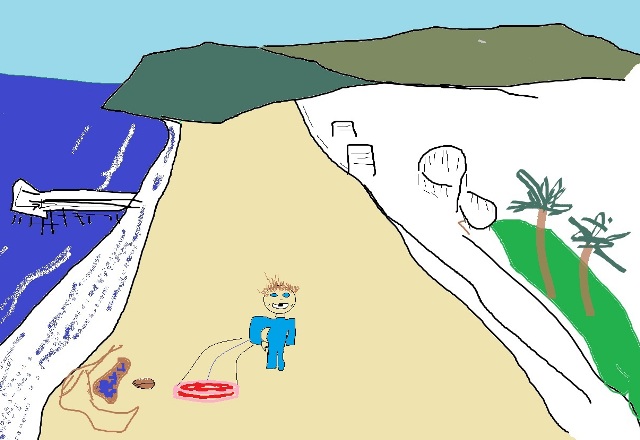 This Sunday it was rainy and ugly. I had pretty much resigned myself a dull icky football-less grey winter day. A break in the drizzle saw us at the park throwing a small football that fit into Dash's little hands. Lots of "throw it way up high". "Again." His depth perception is very good as is his footwork. Moves early and instinctively. His catching is a bit nerve wracking, though, as he still traps it against his body or his neck or his face. He gets angry with me if I don't make a catchable throw, which is often. Often enough that there is yelling and crying. I tell him that I have a 2-foot by 2-foot square that I have to aim for and that I can hit it consistently only if I throw it low and fast. Not wanting to do that I have to throw it high and soft which makes it harder. Too low and he'll cry about a bad throw, too high and I'm beaning my kid in the head. Pick your poison.
Nonetheless, good bonding between the bitching.
Later, took him to the pool for the first time in a long time. Gosh, he loves to swim. So much laughing (unfortunately, some of the laughing he does under water. So much water breathing…). He really does very little complaining while swimming.
Just had this conversation with Dash while tossing a football. Note: his hands are still too small to "hand catch" it much, he has to use his body and arms to trap it. Sometimes, if it's too high...
"Ow. I caught it against my face and it hit my lips pretty hard. Good thing I put on my lip balm, it protects my lips."

"I don't think it protects your lips from footballs. It protects them from dryness."

"The football IS dry."
While listening to Michael Jackson's "Beat It" back to back with Weird Al's "Eat It" I came to the conclusion that 1) Eat It was the better version, and 2) Introducing Dash to the classics via Weird Al is prefectly okay. For example, he gets to experience the classic Kink's "Lola" as "Yoda" without opening up the "What does he mean 'and so is Lola.'?" conversation.
Feb 25: Dash's First Basket!
A great couple of weeks in Basketball. He's actually been fully focused for the last two games (first full-focus ever), a milestone of relief for us parents (and coaches).
The monkey is off the back (our monkey, his back). It took three seasons, but here it is: his first basket.

It's been a sustained effort from the young man, we're happy for this rewarding milestone.

He did his first "real" dribbling (handling defense in his face) later in this game, which was a surprise to me, since it kind of came out of nowhere.
March 1
Dash was home recovering from a cough today. One of those days where you weren't sure whether you were going to take him in or not. He was in a good mood with lots of energy, touch and go.
For whatever reason, he occasionally likes to have a sheet of paper with math equations written on them (I certainly prefer that to having to draw for him (his artistic expectations of me far exceed my ability)).
I started some math equations and then gridded out the Multiplication Table and showed him how to use it. Perfect squares and the symmetry around it. The school's approach to teaching math is pretty interesting, he gets a lot of conceptual stuff (for example, the commutative property is very natural to him and he brought it up when I was showing him the symmetry of the Multiplication Table).
That got him inspired to go grab a calculator and start playing with it for quite some time. So we wrote down some equations and calculated the answers for things like how many seconds in a year and how much we could sell him for if he were made of gold (I told him not worry: I wouldn't sell him because he's worth more to me than gold).
The calculator had a square root button on it. If figured I'd test him. I showed him the square root of 4 is 2. 4=2x2. The square root of 9 is three. 9=3x3 The square root of 16 is 4. At this point Leigh had called to check in and was on the phone.
"Okay, Dash, what is the square root of 25?"

Dash: "Five."

"What is the square root of 36?"

"Six." Leigh says in my ear (phone), "That doesn't prove anything. You're doing them in order."

"Okay, Dash what is the square root of 100?"

"10."
Square Roots got me thinking of "Donald in MathMagic Land". Thanks to Youtube, I pulled Dash onto my lap and we watched it on the computer. His first question, during the opening credits, was "Is this non-fiction?" "Yes, animated ducks are a perfect vehicle for non-fiction."
A good day. It cost me some work time, but it was really great to be able to do it.
BTW: he had first fully-earnest basketball practice on Tuesday. He's into it (a big relief, because unless he was scrimmaging he was generally goofing off during drills).
March 17
Dash just completed a very successful third season of basketball.

The big success was that he started taking practices and games seriously. He used to goof off in a ridiculous manner for at least some of each game and a good portion of practice. He's a consistent teammate now.

He also scored for the first time this season and started dribbling with some effectiveness (he's always been a good passer and hustler on defense).
April 22, 2012
Fun Weekend.
Met Bob, Ruthie and Joel Vander Lugt on the beach on Saturday.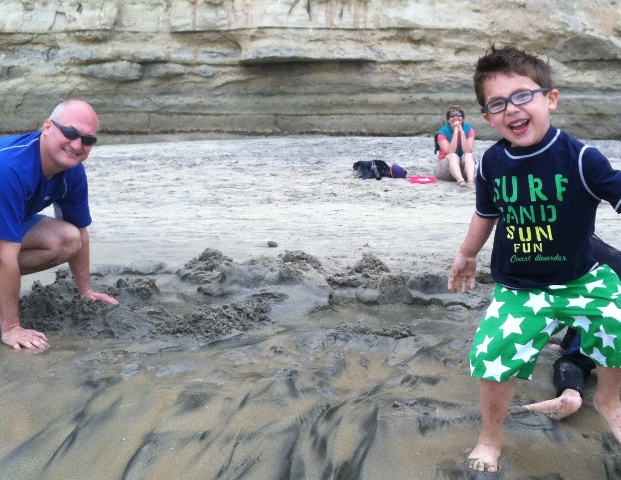 Had to split up for a few hours for Dash to play a basketball game. As expected, we played a very good team and Dash had his first experience as the team lead having to bear the burden of being relied upon and not being able to pull it off. He handled it pretty well; I was happy with his attitude.
Today we went boating in the big bay. Had a really nice time. Saw lots of porpoises.
April 15.
Happy Tax Day. This 5 and a half minute Basketball clip may tax your patience, but here it is. Season 4, Game 1. Leigh's first game as Coach. Last season's superstars have moved up a league, leaving Dash older, taller and more experienced.
July 23, 2012: Florida Vacation
Florida Vacation: click here.