Happy Holidays 2015
From Leigh….
Happy Holidays Friends and Family! Wow, hard to believe another year is behind us. 2015 has been busy and action packed to say the least.
Dash turned 10 in October and is in 5th grade. He is having his best season ever with his travel basketball club, Next Generation (NG). We are grateful for Coach Nash who is a phenomenal mentor, coaching his six NG teams and San Diego High School, all while leading his teams through numerous community-based volunteer activities, including feeding the homeless which we will prepare for and deliver on Christmas Eve.
Dash tested into advanced math and is enjoying the challenge. He also loves to read and write, plays electric guitar and 2nd year cello with the school orchestra.
I started a new job with 3M Personal Safety Division, covering San Diego County and all of AZ. I love my job and can't express enough what a great group of people I work for and with. In spite of hectic work schedules and travel for both Jeff and me, we managed to fit in a lot of camping, mountain biking and boogie boarding with a lot of great friends this past summer.
We broke from nearly 10 years of vacationing with family in FL and MI and enjoyed the immense beauty and outdoor activities in Alaska. It has been exactly 10 years since Jeff and I have traveled internationally – but Dash has his new passport as of this year, so I think we are gearing up.
We are grateful to have had such a great year, healthy and surrounded by friends and family, and we look forward to 2016. We wish all of you and your families a wonderful holiday season and a sensational year to come.
Jeff here. I've pretty much dropped the ball as far as keeping this web updated. It's easier to dump a bunch of things on Facebook. I actually had to browse Facebook to see what happened this year. I'll be updating this web over the next couple of days.
In any case, we hope you're having and great Christmas Holiday.
Basketball has been more fun for Dash because he's finally playing at his age instead of a couple of years over it. He's always had a good attitude towards it even when he hadn't been scoring much. Now that he's scoring a lot, it's been a lot more fun. He's always been the lead assist guy, but mostly 'cuz he doesn't feel comfortable driving into a defense. A better feel on defense, too. There's a section below with some Hoop Stuff.
I was very proud that he played guitar at during last spring's "Curie Talent Show". Stuff below about that.
Booga d' Beppo, our cat for for the last 17-years wandered off at the beginning of October. He was an excellent kitty and is missed. Hard to believe a third of my life has had that cat in it. Let me know if this is visible if you don't have a Facebook account: Booga d' Beppo Facebook Photo Album. We'll get a couple kittens soon. Dash will be surprised at how lively cats can be.
Dash really enjoyed seeing Rush at Irvine Meadows Amphitheater. I've never been as far from a stage before, using my binoculars to see the JumboTron, but Dash had a great attitude.






The weather and the water was really warm, and we enjoyed the beach a lot. It's probably the only time I was in the Pacific not missing the Atlantic.
We did do something this year that we hadn't done before, flying to a destination vacation. To date, we'd only flown with Dash to visit family. We flew to Alaska in July. I'm working on getting the photos and narrative up for that. Forgive the format, my web authoring software is no longer supported and I haven't learned the new tools (I've got to reimagine everything for the new standard browsing device: cell phones).
The work-in-progress page is here. The full suite of Pictures are on Facebook.
So, while I rustle up the Alaska photos, let me wish us all a Great 2016.
-jeff
---
Basketball: Fall 2015
And so we begin another season of basketball.

This summer we had an unintentional break as Coach didn't have his teams in leagues. Out of town tourneys instead. I think we might have hit one.

I was hoping that Dash would have one more season in a 9u league. Give him a chance to be a big guy. He's worked hard, well, he's attended a lot of practices, without a lot of glory. Need those glory moments to help sustain motivation...

When I saw the league schedule, it read 3rd/4th Grade; I had some hope.

Turns out that it's a 10u league. But he is one of the biggest and oldest on his team. Mixed blessing.

But, for whatever reason, the switch flipped in his head, and he's been busting his butt in practice. We're all very happy about that.

Will it translate to the court?

Click the pic or here to find out.
Curie Elementary Talent Show
Dash did a really good job in his first public solo outing tonight at the Curie Elementary Talent Show.
Leigh and I were skeptical that he'd have all the equipment working right with a thirty second turnaround between "acts". Sure enough, the "stage crew" didn't have things hooked up right, so there was no sound. So after deferring for an act, we discovered that the backing track recorder was plugged into the amp's "Headphone" jack instead of the Input jack, essentially silencing the amp's output. We got the amp working, but, as you can see, he couldn't figure out what was wrong the rhythm track. At 0:13, he says "Oh, well, I'll do it without it".
Shareable link: https://youtu.be/aG4GATp-O6E
At about 1:30, you can see him run into another issue: the tremolo bar is on the wrong side of the amp cord. He doesn't freak out and it doesn't throw him off rhythm. At the end, he's prepared and goes "the long way around" to get some tremolo.
Grace under pressure. He has a career in live software demos, if nothing else. "Welcome to my world, son. Run away!"
I told him all that practice pays off when something goes wrong. "Backing Track? Backing Track? We don't need no steenking backing track!"
So, now what he does in the future is simply quantitative improvements. Smoother stuff, more complicated stuff, more original stuff. Some stage presence (actually, the hamminess is there in droves; I'm glad he's being serious now.). Other than software demos and training and probably some Astronomy stuff, I've never really done public "performances". He's already well ahead of me there. I'm proud of the courage.
---
I call this piece "Index Fingers with Seal in A-minor"

May 1, 2015
April 23, 2015
Curie's 4th Grade Orchestra in Concert:
5th Grade Orchestra: https://www.youtube.com/watch?v=a61nXSBhJBw&feature=youtu.be
April 3, 2015
School of Rock Concert: AC/DC
December 28, 2014
Here is boating with Grandma, Aunt JoJo, and cousin Nick

Thursday, December 18, 2014
First Orchestra Event:
Okay, I learned: the music stands are taller than the kids, get a very high tripod.
Dash is the eyebrows, forehead and hair third from stage left.
Thursday, December 11, 2014
First public performance on something other than guitar. He started playing cello this school year. Accompanying Dash on violin is his good friend, Griffin.
I think the cello and the basketball uniform make an interesting mix...
Sunday, November 30, 2014
| | |
| --- | --- |
| Just got back from a long road trip in Arizona biking and attending a Basketball Tourney. Story and Pictures to follow... | |
Saturday, August 2, 2014
Lot of stuff I've been negligent on, that I want to post, when I get a chance (Big Bear Bike Rides (Dash did great on Hanna Flats), Green Day School of Rock, etc., but the big news: Grandpa Stokes died yesterday.
I'm putting together some stuff at CoachStokes.net. And through together some photos at http://coachstokes.net/photos_dash.htm. Most of the photos are from this site, but there were a couple of others added.
Sunday, April 27, 2014
Dash finally had that breakout game in Lacrosse today.

I think he might have take a few shots before today. Maybe.

Today he scooped up the ball behind the goal ran around to the right side and fired one in. Didn't have a lot of defense on him, so it looked easy.

Later he got the ball at midfield and had a nice breakaway run and shot low at the crease. Goalie made a nice save at his feet. Goal and Dash chased the deflection off to the side and wound up in a big pile. No goal, but nice aggressive play and opportunity.

Later he got the ball halfway from midfield, had a nice run and made a left-handed shot in some traffic.

On both offense and defense, he's something of an opportunist, letting the other kids do most of the dirty work. He had some last-second disruptions on defense a number of times (why waste effort, I guess). He's like that on defense in basketball, too (no sense getting banged up, I think).
Sunday, April 20, 2014
Weekend at Mammoth (thanks, Kathryn!)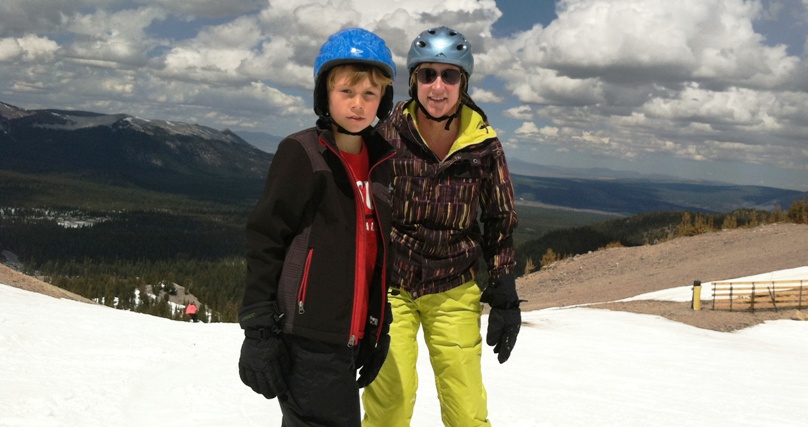 Friday, April 4, 2014
Rock Star?
At 3:45 min., they start "I Want to Hold Your Hand" where Dash plays rhythm guitar.
Monday, Feb 24, 2014
Sunday, at a birthday part for one of Dash's teammates, I was talking to Coach Smitty. He said "Dash is hyper. He should try wrestling." Dash is tall and thin (54", 60-lb). Sensitive. "That would NOT be a sport for Dash. I can tell you that much right now."
I wouldn't call it a nightmare, but it was definitely a dream that disturbs you enough to wake you up. Dash is wrestling some guy bigger than him. They're standing up, Dash in a headlock. You can see him struggling, his face showing frustration and a big WTF attitude (like when he was continually being elbowed in the face during and inbound play in a winter rec game). After 20 more seconds of a variety of discomfort-inducing moves on Dash, I woke up. Wrestling: yeah, good fit.
clicking on the list shows both pages.
---